One Nation One Ration Card 2022: For all Indian citizens, including migratory labourers and the impoverished, the central government has introduced the One Nation One Ration Card. The federal government created the One Nation One Ration Card Apply Online Standard Format, which must be adhered to for issuing new ration cards.
The Aadhar-Rashan Card connection will also be activated by the national government. A list of states that have already begun implementing the One Nation One Ration Card Scheme and the online application procedure are now available to the public.
Even the dashboard may be viewed on the official portal at impds.nic.in. For detailed information on the programme, people may now visit the Integrated Management of Public Distribution System (IMPDS) webpage.
One Nation One Ration Card 2022 
The One Nation One Ration Card (ONORC) would assist in delivering cereals, rice, and wheat flour for the economically underprivileged segment of the country at discounted costs. The "One Nation One Ration Card" (ONORC) programme for the underprivileged was announced by Finance Minister Nirmala Sitharaman in light of the COVID-19 epidemic.
All beneficiaries and cardholders may now purchase subsidised food from any Public Distribution Shop around the nation thanks to the conversion of a conventional ration card to the One Ration Card.
On May 16, the Finance Minister unveiled the ONORC programme as part of the last phase of the Prime Minister's Atmanirbhar Bharat Abhiyan, which included stimulus funding worth Rs. 20 lakh crore. All of the states and union territories in the nation have adopted this programme, and 20 states have already committed to doing so.
Objective 
After the programme is put into place, those who relocate from one location to another won't have any trouble receiving subsidised rations.
Additionally, possessing more than one card will no longer be an option thanks to this alteration.
By stopping some ration sellers from defrauding consumers, the government can conserve food grains.
The one country, one ration card programme attempts to stop counterfeit ration cards and corruption throughout the nation.
In many states, integrated management of the PDS system is progressing quickly.
The One Nation One Ration Card programme would ensure that the migrant workers have comprehensive food security.
The goal of the union government is to launch this programme simultaneously in several states so that the majority of the eligible people in the nation can benefit from it.
Key Highlights of One Nation One Ration Card 2022
| | |
| --- | --- |
| Launched By | Finance Minister Nirmala Sitharaman |
| Name of Scheme | One Nation One Ration Card 2022 |
| Objective | To provide food security and allow recipients the opportunity to purchase rations from any PDS outlet |
| Benefits | One ration card can support migrant workers' livelihoods nationwide |
| Eligibility Criteria | Applicant must be a worker |
| Beneficiaries | Migrant workers |
| Official Website | NFSA |
Benefits of One Nation One Ration Card
The development of ONORC began in April 2018. By 2021, all beneficiaries in all states and Union Territories are anticipated to switch from the conventional ration card to the One Nation One Ration Card. The main advantage of the One Nation One Ration Card is that anyone who qualifies for free or reduced-price food grain can purchase it at any FPS store in any city. The One Ration card can improve the quality of life for migratory workers across the nation since many individuals are moving to other locations and they were previously unable to buy food grain in any other place.
Some other benefits of ONORC are given below:
All beneficiaries from one state are eligible to receive their fair share of rations in other states where the ration card was first issued under the ONORC. Ration cards can be used by any beneficiary at any PDS store throughout the nation. ONORC aims to give migrant workers access to PDS food grains on a global scale.
In addition, ONORC will provide beneficiaries the option to select their own dealer. If there is any indication of wrongdoing, the recipient in many situations of misallocation can immediately move to another FPS store.
Women and other groups will benefit from this plan since their social identities and other contextual elements will provide them a solid foundation for gaining access to PDS.
The ONORC will also assist in achieving SDG 2's goal of eradicating hunger by 2030. It also intends to solve India's low food security, which has led to the country being rated 102 out of 117 nations in the Global Hunger Index.
Features of One Nation One Ration Card
It is being carried out as part of the PDS Integrated Management (IMPDS.)
The ONORC programme is providing coverage to 65 crores of people.
The programme has covered 80 percent of the beneficiaries who have registered with the NFSA.
The programme has been implemented in 25 states and UTs.
Once all states and UTs are included in the programme, 81 crore people are expected to get benefits.
To support recipients, the government will establish a hotline number.
Eligibility Criteria
As you are all aware, the state government issues ration cards in two different methods, the first of which is the APL ration card and the second of which is the BPL ration card. They receive APL and BPL ration cards according on the household income.On the same lines, this may also be the foundation for choosing recipients of the One Country One Ration Card. We're going to give you all the information today concerning who qualifies for an APL Ration Card and who qualifies for a BPL category.
APL- People who are over the poverty level are put in the APL category. These individuals receive an APL ration card. If you are capable of managing your finances, you must apply for an APL Ration Card.
BPL category – Individuals who live below the poverty line in the country are kept in this category. A BPL ration card is given to these individuals. They must apply for a BPL ration card if they fall below the poverty line.
List of States who accept One Nation One Ration Card Scheme
Andaman and Nicobar Islands
Andhra Pradesh
Arunachal Pradesh
Assam
Bihar
Chandigarh
Chhattisgarh
Daman & Diu
Delhi
Goa
Gujarat
Haryana
Himachal Pradesh
Jammu And Kashmir
Jharkhand
Karnataka
Kerala
Ladakh
Lakshadweep
Madhya Pradesh
Maharashtra
Manipur
Meghalaya
Mizoram
Nagaland
Odisha
Puducherry
Punjab
Rajasthan
Sikkim
Tamil Nadu
Telangana
Tripura
Uttar Pradesh
Uttarakhand
West Bengal
Documents Required
Residential Proof
ID Proof
LPG Card
Mobile Number
Email ID
Application Procedure for One Nation One Ration Card 2022
First of all, under this One Nation One Ration Card programme, no ration card bearer is obliged to reapply for a ration card.
The beneficiaries' ration cards must be verified and linked to the Aadhar in all states.
There won't be a difficulty in taking the ration because the PDS will be synchronised with the database of all recipients.
No migratory worker should be denied subsidised food in any state of the nation.
According to the plan, residents of any state would be able to purchase rations from ration stores in any other state for less money.
Poor folks shouldn't be denied the subsidised ration if they are migrating due to work or other circumstances.
The administration believes that this would finally deter corruption.
Mera Ration App Download
For holders of NFSA ration cards, NIC has created a mobile application in collaboration with the department of consumer affairs.
Candidates must first unlock their phones and use the Google Play Store app.
At this point, look for the Mera Ration app, download it, and install it.
You may now use the smartphone app to get ration-related services without leaving the house.
Procedure to Know Ration Card Status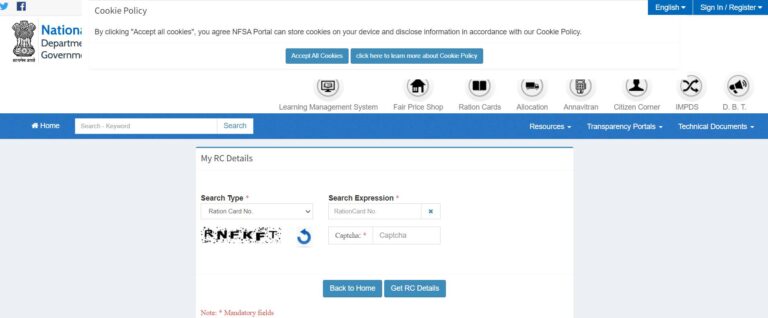 A new page will open where you fill in your Ration Card Type, Ration Card Number and Captcha code.
After that click on the get RC Details button.
Your ration card details will be shown on your screen.
Contact Details
If you have any query regarding One Nation One Ration Scheme then you may call on Tollfree Number – 14445